Woodseats Primary school has a mandatory dress code. It consists of the following:
Navy blue top with optional Woodseats School logo (sweatshirt, cardigan, fleece, zipped hoody)
Navy blue or white polo shirt with optional Woodseats School logo
Plain black, grey or dark blue lower half (e.g. trousers, shorts, skirt, pinafore, leggings, tights)
Sensible shoes or trainers (plain, dark coloured, flat or low heeled, no stripes or logos) and a coat
In winter: plain navy or white polo shirts may be worn with school sweatshirt on top
In summer: girls may wear blue and white 'school' summer dresses,
Shoes should be plain, dark coloured, flat or low heeled, no stripes or logos.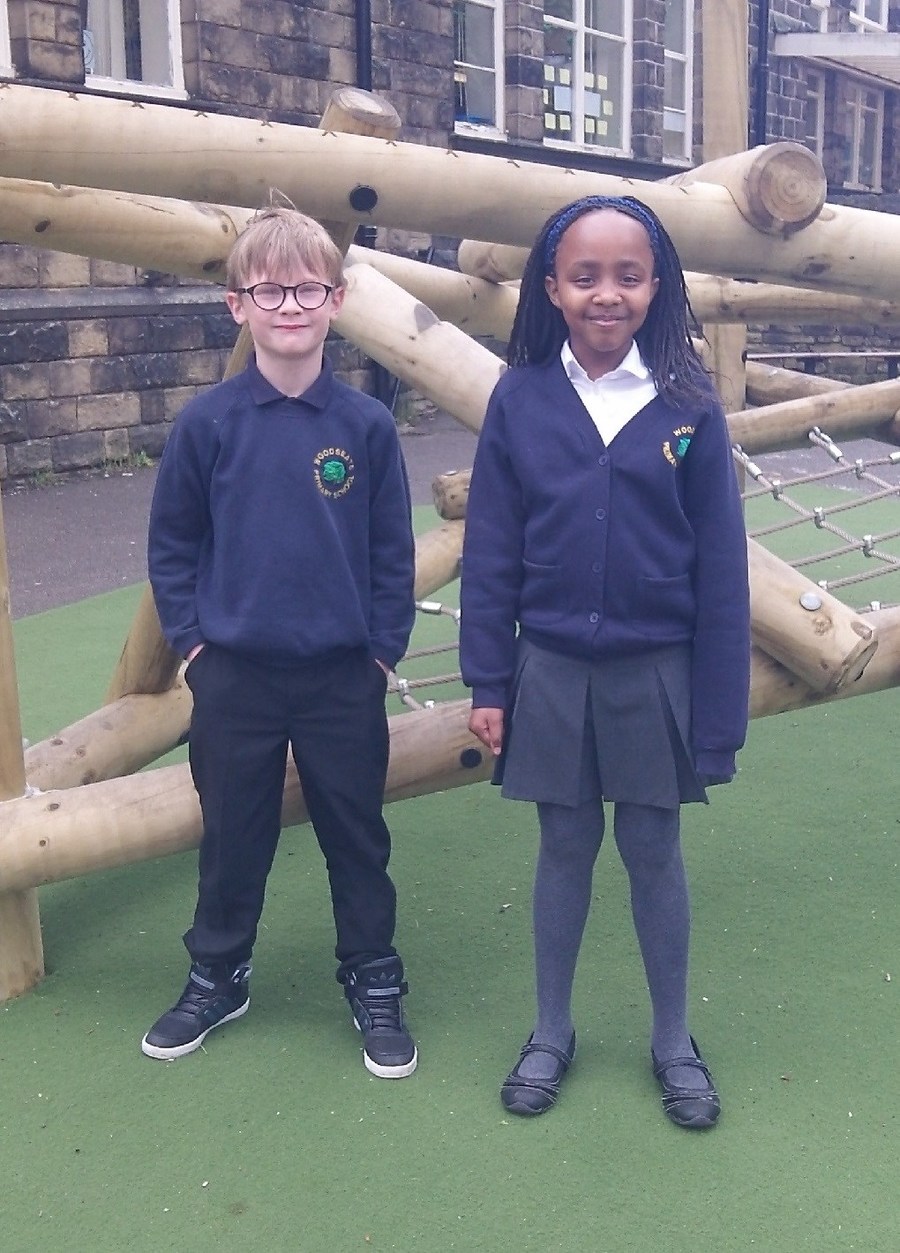 P.E. Kit: This consists of the following and should be kept in a slipper bag with a drawstring.
Black or blue shorts, joggers or leggings
White t-shirt and a jumper or hoody (in school colours) for colder days
There should be no large logos on any clothing, apart from the school logo and no football shirts.
Whenever possible, children will have P.E. lessons outside and may, at certain times of the year, need extra clothing, such as a sweatshirt or tracksuit bottoms. From September 2020: Please note that at the moment children are being asked to come to school in clothes suitable for indoor/outdoor PE on their PE days and parents are told when these days are.
Parents should ensure that all items are clearly marked with their child's name. The topmost garment must incorporate the school logo.
We have a strict no jewellery policy at all times, except for a wrist watch worn at the wrist and/or very small plain stud earrings (which will have to be taken out during PE lessons). This is in line with all the schools in the Meadowhead Trust. If you wish to have your child's ears pierced, please do so during the summer holidays so that jewellery can be removed during PE before your child comes back to school in September. Children should also have no nail varnish or hair colour whilst in school.
Children are allowed to wear very small plain stud earrings in school. As there will still be a safety risk during PE, children will be requested to take them out for the duration of each PE lesson. If it is the 6 week period after piercing, they will need to have the earring covered. Health and safety is important to us and therefore if children attend school in any other type of earring they will be requested to take them out.
Lunch bags: Packed lunches need to be in a suitable packed lunch box or bag, small enough to fit on the lunch trolleys. These will also need to have the child's name on.
Water bottles: Please send your child to school with a refillable water bottle each day. Water is available in school for your child to refill their bottle during the day.
Wet weather or snow: Parents are asked to ensure that children wear wellingtons or sturdy boots in snow. If wellingtons or boots are worn, children should change into alternative footwear (e.g. plimsolls) during the day.
Hot weather: We strongly suggest that children bring hats in very hot weather for playtimes. However, hats should not be worn inside school at any time of year.
School Book bags cost £4.60 each and can be collected from the school office after payment has been received through ParentPay.
School uniform items can be purchased from Logo Leisurewear. Click on the link below for the Logo Leisurewear online ordering page.
A message from Logo Leisurewear:
Orders required for school delivery before the summer break should be received by Logo Leisurewear by Friday 18th June 2021 for guaranteed school delivery. They will try to fulfil any orders received after this date as far as is reasonably possible. Orders will still be accepted after this date and they will try their hardest to deliver these orders to school before the summer break if the items are needed for September.
Parents/carers can order online through the Logo Leisurewear website (link below) and the last guaranteed date for online orders for home delivery is 31st July but they will try to process as much as they can after this date.
Logo Leisurewear encourage the use of online ordering where possible
The benefits to the customer are:
Faster process, with immediate stock allocation for the order.
Card details are on a secure server.
Can log in to see your order.
Can see a record of previous orders.
Customers can see when the order is packed and dispatched.
Logo Leisurewear order form - April 2022
Tesco embroidery service is now called My Clothing. School uniform with our school logo can be obtained through www.myclothing.com. For items purchased through this website, My Clothing will donate 5% to our school.